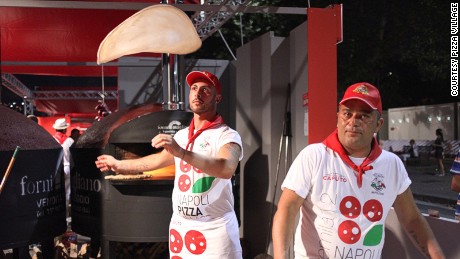 (CNN)Seems everywhere has a food festival these days, or at least an excuse to sell overpriced paper bowls of pulled pork in a tent.
For the dedicated diner, the standard shindigs are unlikely to satisfy.
They're after something more.
The good news is, as the global gastro revolution continues apace, there's plenty to choose from.
These are some of the world's best festivals for anyone hungry for something special.
Wildfoods Festival (Hokitika, New Zealand)
Held mid-March in the quaint town of Hokitika on the west coast of New Zealand's South Island, the Wildfoods Festival has visitors feasting on things they probably never thought could be cooked into a meal.
Or even eaten raw.
OK, seagull eggs are nothing to write home about and mountain oysters can be an acquired taste, but what about possum cutlets washed down with gorse wine?
Earthworms?
Huhu beetle grubs?
The less adventurous needn't worry — there are always the more conventional platters of frogs' legs and snails in garlic to fill up on.
Annual Golden Spurtle (Cairngorms, Scotland)
This nine-day Thai celebration is part of a general mind and body detoxification.
The biggest event occurs on the island of Phuket, where the faithful hang lanterns outside temples and march through the streets beating drums to drive away evil spirits.
By far the most impressive spectacle at the September/October event is the sight of devotees deep in trance walking on hot coals, bathing in hot oil or piercing their body parts.
They seem immune to pain, believing that they're protected by the gods they're channeling.
With so many sights blinding the eyes, it's easy to forget that the whole place goes veggie for nine days.
It might seem as though it's the same carnivore-friendly dishes on restaurant menus, but the cooks use soybean and protein substitute products instead of meat.
Herring Festival (Hvide Sande, Denmark)
Each April the Ringkobing Fjord in Denmark sees schools of herring swim in to spawn in its sheltered waters.
They in turn attract anglers to the tiny village of Hvide Sande from all over Scandinavia.
Where there's fishermen, there's competitions, so the Herring Festival was born.
It's just as well, since the herrings caught need to be eventually consumed — whether pickled, fried or ground into fishcakes.
Spectators with lots of patience can attend angling demonstrations, or go to fishing classes and filleting workshops.
Amazingly there's also a fashion show demonstrating the latest couture for outdoorsy, waterproof and presumably smell-resistant clothing.
John Malathronas
is a London-based travel writer and photographer. He's written or co-written 15 books, including the "Michelin Green Guide to Austria."
Love food? Love to travel? Share photos of your own Culinary Journeys on Instagram with the hashtag #CNNFood for a chance to be featured on CNN.com. For inspiration, check out a few of our recent submissions below.