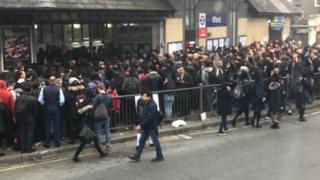 Hundreds of thousands of London Underground (LU) passengers have had their journeys disrupted in a 24-hour strike by drivers.
The Central Line was closed earlier but is now operating a limited service with severe delays. The Waterloo and City Line is suspended.
People are experiencing overcrowded stations, trains and replacement buses.
Union Aslef said the strike, which started at midnight, was over working conditions. LU said it was "needless".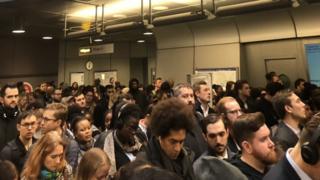 Transport for London (TfL) said there was a "queuing system in place" at Ilford, Manor Park and Forest Gate to cope with the crowds.
The Central Line is currently running a "severely delayed" service between Ealing Broadway and White City and between Woodford and Liverpool Street.
TfL said it was not yet able to confirm whether a limited service would also be running on the Central Line Night Tube.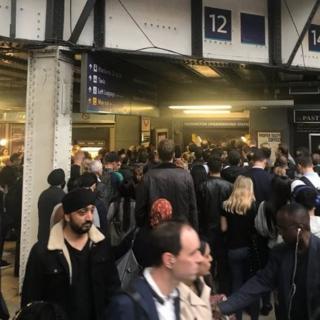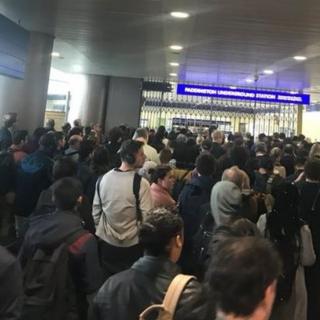 On social media, passengers have been speaking about their nightmare journeys.
Lewis Allcock tweeted that his 167 bus to Ilford was "so ancient, there was no Oyster tap system – free ride!".
Another Twitter user described the "bizarre sight of vintage Routemasters and tourist open-tops ferrying commuters".

Aslef's Finn Brennan said the strike was over a number of issues, including "unsafe" working practices.
"Drivers are continually forced into overtime and unsafe new working practices are pushed through without agreement," he said.
"It would be a dereliction of our duty as trade unionists if we did not take action to stop our members being treated like this."
Nigel Holness, director of network operations for LU, apologised to commuters for the "unnecessary disruption".

On the scene: Tom Edwards, BBC London transport correspondent
A misty Epping Tube station at 07:30 and lots and lots of passengers were still turning up who didn't know about the strike.
The options – a shared cab or the dreaded bus replacement service to Chingford.
I joined the commuters on the top deck. And so began a long, slow arduous crawl through Epping forest through traffic-clogged roads.
There were lots of empty seats on the bus and it seemed many people stayed away.
One lady told me she didn't know what the strike was about but she was going to be two hours late for work. She had the resignation of a hardened commuter used to such trials.
Essex relies heavily on the Central Line and life without it is slow and difficult.
As I write this I'm still on that bus…

Mr Holness said recent talks between the parties over the action had been "positive" but they had "not been able to agree on the reinstatement of a train driver who was dismissed for a serious breach of our safety regulations."
A 48-hour strike by rail workers on South Western Railway also began at midnight, affecting services to London Waterloo.
Another Tube strike is scheduled for 7 November.
Members of the RMT union took industrial action on the Piccadilly Line last week in a separate row.