EUs chief negotiator issues warning to UK government as talks appear on brink of collapse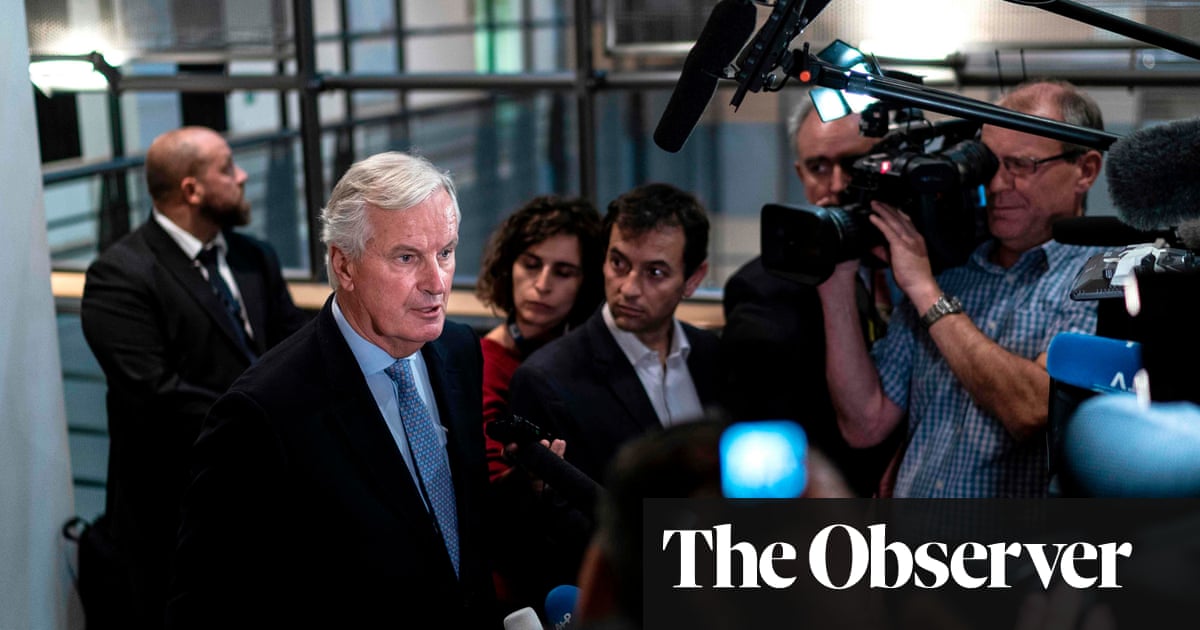 The EUs chief negotiator, Michel Barnier, has said Boris Johnsons government will have to bear full responsibility for a no-deal Brexit, as more than three years of talks between the UK and Brussels appeared on the brink of collapse last night.
In what appeared to be the opening shots in a blame game as both sides sense failure, Barnier said he could not see how a deal could be done unless the British side came forward with revised proposals within days.
If it refused to do so and there was no deal as a result this would be viewed by the EU as the deliberate choice of Boris Johnsons government.
If they do not change, I do not believe, on the basis of the mandate I have been given by the EU27, that we can advance, Barnier said on Saturday at an event in Paris organised by Le Monde.
If the UK was still serious about a deal it would return with different proposals this week and the EU side would be prepared to talk, he said.
But he added: I want to be extremely clear. No deal will never be Europes choice. It would be and note the conditional tense, because I hope still to find a deal it would always be the UKs choice, not ours. Were ready for it, weve taken measures to protect our citizens and our businesses. But we do not want it. His comments came as Downing St made clear it would not give any substantial ground and that the onus was on the EU to show flexibility.
At a meeting of government advisers on Friday night, Johnsons closest aide, Dominic Cummings, said if Brussels did not soften its opposition to the UKs proposals, the UK would be ready to leave with no deal.
The signs of deadlock increased after a week in which the Johnson government tabled new proposals under which Northern Ireland would leave the EUs customs territory with the rest of the UK on 31 October, but remain in the single market for goods. The Northern Irish assembly would also be given the right to veto the arrangements every four years, even though the power-sharing assembly was dissolved more than two years ago.
However, Barnier said that there were serious problems with the plans which threatened the EU single market and did not answer EU concerns on the need for customs checks: We are a single market. Thats a complete ecosystem, with common rights, common norms, common standards, common rules, a common legal system. It requires checks at its borders.
Downing St had suggested before the weekend that the prime minister would be touring EU capitals this week to try to make progress towards a deal.
But in a firm rebuff, the European Commission made clear there was insufficient basis for more negotiation as the gulf between the two sides remained too wide, and it did not want to give the impression that progress could be made when it could not.
Nevertheless, No 10 said that the Brexit secretary, Stephen Barclay, would travel to the Netherlands on Sunday, and that Johnson would continue to hit the phones over the next couple of days, and remained open to meeting EU leaders if they wanted to see him.